Be My Disciples
Third – Seventh Grade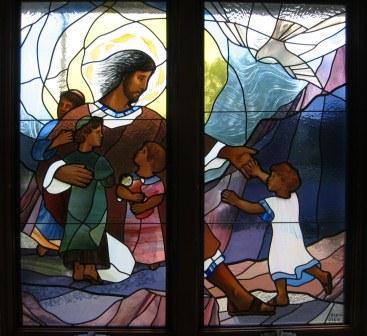 "And Mary kept all these things, pondering on them in her heart"

Luke 2:19
This year our curriculum has changed to RCL Benzinger's Be My Disciples.  Be My Disciples is an innovative and complete religious education program that empowers students and their families to answer the call to discipleship. This new program will lead children and their families to grow in their conversion to Jesus Christ, to develop the habits of discipleship, and to decide each day to choose life in Christ. Using a balanced approach, Be My Disciples is validated by new insights into education today.
Be My Disciples:
Invites children to discipleship through its catechumenal methodology
Teaches Scripture, doctrine, and liturgical celebration through its spiral structure
Challenges children to integrate faith and life through activities and faith choices
As part of our students' Religious Education, we gift each student with a St. Mary's Press Youth Bible in the fifth grade. The students are asked to bring in their Bible each week of Religious Education all the way through to Confirmation. Students are encouraged to use their Bibles often in order to have a basic understanding of the books and letters and how these Sacred Scriptures can benefit their lives and enhance their faith.
We hold annual retreats for students participating in First Reconciliation, First Holy Communion or Confirmation. We also have Advent and Lent Retreats. These retreat days are geared to teach the parents and children about a particular sacrament or holy day and to build their faith community here at St. Rita.
As stewards of the Catholic Faith the children participate weekly in the following service projects: 
Person of the Week.  Each week, individual students make a card and write to one person in the nursing home. The 7th & 8th graders are asked to bring in a small gift for this elderly person. This gift could be cookies from their cookie jar, chips in a ziplock bag from their bag of chips at home, perhaps a gently used pair of gloves or a scarf or costume jewelry. Or they could buy an item from the dollar store cart. 
"Birthday Cake Kits" for a needy child whose parents may not be able to purchase a birthday cake. Each kit contains a cake mix, frosting, candles, oil, a dollar for eggs and a small gift for a child. 
Mayan Missions. A collection is taken each week for the Mayan Missions. We combine our donations in the fall and winter semesters and send the Mayan children one check at the end of Religious Ed.