Deacon – Louis Weitzel
May 18, 1920 – July 15, 2019
​25th Ordination Anniversary Celebration video here.
​Funeral homily video here.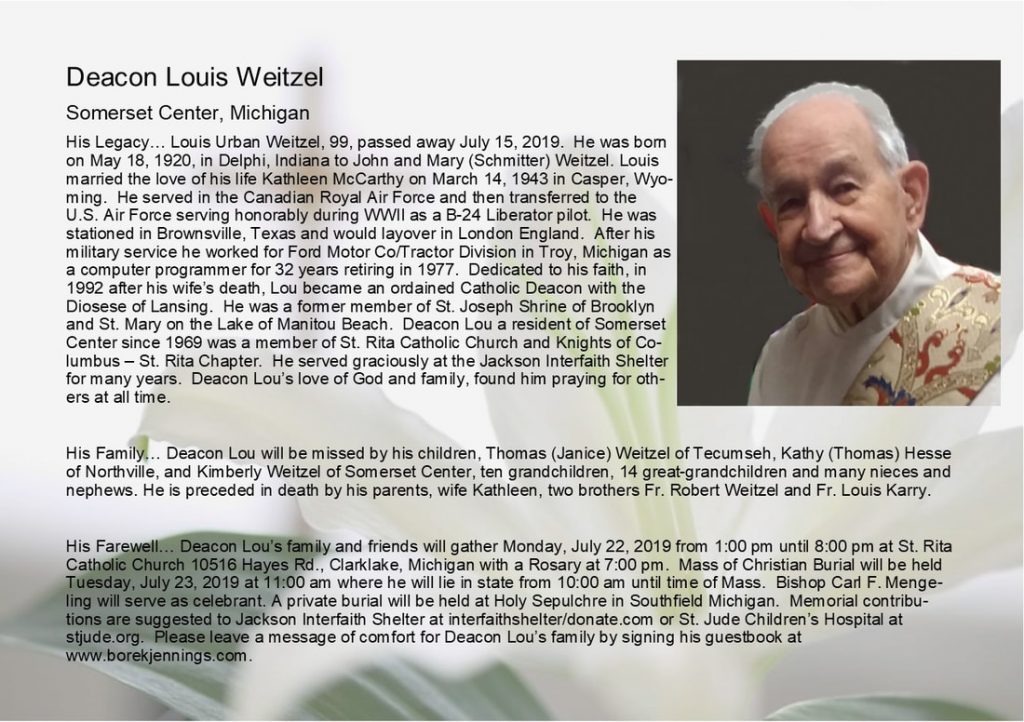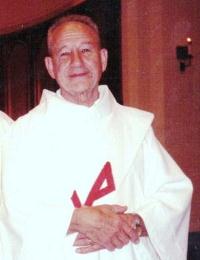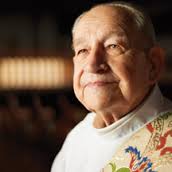 Louis Urban Weitzel was born May 18, 1920, in Zionsville, Indiana (about 17 miles from Indianapolis) to Urban and Mary Weitzel. Lou had three older adopted brothers: Paul, Robert, and Louis. In his family, Lou was known as "Young Lou" and his brother Lewis as "Old Lou." His older brothers Robert and Louis both became priests: Robert served as a missionary in Brazil for 30 years, and Louis became a chaplain in the US Army, serving in Vietnam and Korea. As children, the Weitzel boys loved baseball and often played several games after supper. In the early twentieth century, this part of Indiana was a hot-bed of activity for the KKK. Because Lou's family was the only Catholic family in Zionsville, his family was targeted with a burning cross on their front lawn almost every Saturday night for over three years. Although their family was threatened on a regular basis, Urban and Mary Weitzel were not deterred in their faith and, in 1945, held Mass in their living room for the few Catholic families from nearby.
In the summer of the late 1930s, Lou attended Civilian Military Training Corps (CMTC) classes, graduated in 1938 and attended Notre Dame and Purdue Universities, studying engineering. In 1941, when it became obvious that the United State was going to enter WWII sooner or later, Lou entered the US Army Air Corps. He was there for only three weeks when he was told he would never fly because he lacked "coordination."
Because of this, Lou decided to join the Canadian Air Force. In the fall of 1941, Lou signed up in St. Louis, Missouri at one of the several enlistment centers in the United States. It was on board a train from Canada to Detroit that Lou met Kathleen McCarthy, the woman who later became his wife. The two corresponded all through Lou's training and assignment to patrol service in England.
Lou was in England from January to September of 1943 until the United States Air Corps began "buying back" the American pilots for up to $35,000 per pilot. Lou soon found himself back at Randolph Field then to Fort Worth to be certified to fly the B-24 bomber.
Lou moved to Casper, Wyoming for crew training. Before moving, he had proposed to Kathleen. After many phone calls to his beloved, he invited her to come with him so they could be married. Kathleen and her mother traveled to Wyoming. Lou and Kathleen were married on March 14, 1944. Five weeks later, Lou was stationed in England flying B-24 bombers over France and Germany.
As a Second Lieutenant in the U.S. Army Air Corps, Lou Weitzel flew 32 missions over enemy territory. He was scheduled, along with two other B-24 pilots, to make a 33rd bombing run targeting a bridge that General Patton needed to be destroyed. This bombing run was to be flown below the cloud ceiling (that is, just 1,200 feet above the river). All the men knew it was a suicide mission. However, fate intervened: just as the three aircraft cleared the beach in France, the mission was aborted. Patton had managed to take the bridge himself.
Lou ended his missions in August of 1945 and was granted a three-week vacation in Miami Beach. He was then re-assigned to Brownsville, Texas to train B24 gunners; Lou and Kathleen's first son, Tommy, was born in Brownsville on August 14, 1945. Tommy was joined by sister Kathy in 1948 and sister Kimberly in 1958.  
After the end of the war, Lou first worked with his dad in Zionsville, but soon moved to Detroit to join Ford Motor Company. He then went to the Garwood Corporation, the firm that pioneered hydraulic control systems. Lou then returned to Ford Motor Company to design trucks and moved his family to Dearborn Township, where they attended Sacred Heart Church. In 1951, Lou and his family moved to Chicago so Lou could help start a Ford engine plant that made the engines for the new B-52 bombers.
Lou and the family moved to Livonia in July of 1958 and attended Our Lady of Sorrows church. Lou retired in 1980. His beloved wife, Kathleen, passed away in 1987 and Lou devoted virtually all of his time at St. Aiden's church, under the constant guidance of Monseigneur Alex Burnette. Father Burnette could count on Lou to repair or replace anything at St. Aiden's that needed attention.
Lou wanted to enter the Diaconate Training program in Detroit, but he discovered that that program took a minimum of 5 years to complete and wished to become a deacon sooner. Since he had built a summer home near Clarklake and met Fr. Jim here at St. Rita, Lou decided to make this his permanent home parish and attend the Lansing Diocese Deaconate preparation program, which only took 3 years.
Lou was ordained into the position of permanent deacon in 1992 by the then Bishop Kenneth Povish. Since then, Deacon Lou has been an important part of this church and community. We are thankful for the example that he provides for all of us.
It's true that Lou sought permission from Bishop Povish to become a priest. He wrote to Bishop Povish and offered to attend seminary at no cost to the Diocese, but his request was denied because the Bishop thought Lou was too old… well, the Bishop is resting in the bosom of Abraham… while our Deacon Lou is still here, cradled in the arms of all of us at St. Rita.
---
As if the previous sketch of the life and adventures of our Deacon Lou isn't enough to inspire us, here are some more "fun facts" about Deacon Lou's past. Enjoy!
Lou's grandfather had lost a hand during a Shivelree celebration during, but still kept his job as Sheriff. He never had trouble arresting anyone because he told them right upfront, "I can't fight you, so if you don't behave, I'll just have to shoot you!"

Because Lou's grandfather's family lived at the sheriff's office, Lou's dad, Urban, took delight in telling anyone who asked where he was born by telling them, "In jail."

After the war in 1945, Lou's mom and dad, Mary and Urban Weitzel, began the first Catholic church in Zionsville, Indiana in their living room. They hosted but a few families. Urban built an exterior entrance into their basement to accommodate a few more families. When the congregation outgrew this grotto, the Bishop instructed Urban to buy a local house "suitable for a church" and a few more families were able to attend. Finally, the Bishop in Indiana instructed Urban Weitzel to buy 10 acres of land and build a new larger church (to be called St. Alphonsus). Since then, it has been expanded four times, and now is home to over 1,300 families in Zionsville. In that complex, Weitzel Hall stands there today in celebration of Urban and Mary Weitzel's faith and family.

Did you know that during "normal" flight over enemy territory in Europe, the gunners of the B-24 bombers stood in an open doorway on board and the temperature was –51 degrees? That's why the crew all wore electrically-heated suits, gloves, and boots. If a gun jammed in the middle of a fire-fight and you touched it for even an instant, your fingers would freeze onto the metal until another crew member could help you warm up the gun and loosen your hand…all the while facing enemy fighter planes coming from all directions.

While in Wyoming, Lou called his beloved Kathleen every Sunday. He had proposed previously and finally told Kathleen during a Sunday phone call that it cost too much to phone, so she should come to Casper and they would get married!

Lou's son Tommy was born on August 14, 1945. Many of you fellow veterans and history aficionados will recognize this date as V-J Day, the end of WWII in the Japanese theatre.

Remember that engine plant in Chicago that Lou worked in Ford Motor Company?  Well, when three giant B-52 bombers made the first around-the-world trip in the 1950s, they flew non-stop on engines built at that plant.

Lou wanted to buy the statue of St. Rita for the church, but Fr. Lehr told him it had already been purchased. It has been dedicated in the name of Lou Weitzel. Lou then bought and donated the Baptism of Jesus stained glass windows here at St. Rita's and dedicated them to the memory of his parents, his wife Kathleen, and his two brothers.

Lou has assisted at the Interfaith Shelter in Jackson every four months for 17 years. He buys, prepares, and serves all the food to feed between 62 and 124 people at these meals.

Lou regularly visits people in hospital and those ill at home, bringing communion and words of comfort and encouragement
For more about Deacon Lou, check out these articles written about him:
(Adapted from a biography written for Deacon Lou's 90th birthday party held on May 16, 2010 at St. Rita Catholic Church in Clarklake, Michigan. Original author: Michael Bradford.)