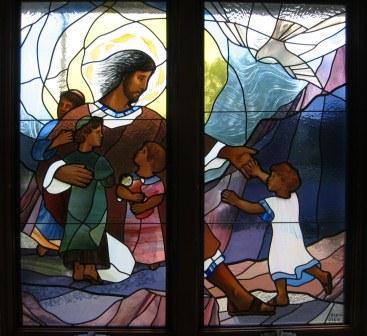 Preschool ~ Kindergarten
The Catechesis of the Good Shepherd is a distinct approach to catechesis, through which the youngest children develop deep, lifelong relationships with Christ and His Church. Catechesis of the Good Shepherd came about through the work of two Roman Catholic laywomen in Rome: Sofia Cavalletti and Gianna Gobbi. They were inspired by the educational principles of Maria Montessori, also a Catholic. The materials they prepared for children, since 1954, were based on the Bible, the Roman Catholic liturgy and sacraments, Tradition, and Church teachings. 
The classroom for the Catechesis of the Good Shepherd is called "The Atrium" and has dedicated areas to teach the children about Liturgy with an altar, tabernacle, sacristy cupboard, ambo, liturgical garb and matching altar cloths. The children are beginning to understand the Liturgical calendar, Liturgical seasons and colors. There is a Baptismal font along with the Easter Candle and faux Holy Chrism display (Holy Chrism is not Consecrated…olive oil only). There is also a prayer area and a Holy Scripture area. The Atrium is for 4, 5 and 6-year-old students who will be fully aware of what happens at Mass just in time for their First Holy Communion.